Dunkirk Camp & Conference Center
The Dunkirk Camp & Conference Center (DCC) is 110 acres of woodland, streams, playing fields, open grounds, and nature trails overlooking Lake Erie. DCC has been home to thousands of visitors over the last 92 years. Whether attending one of our sleepover summer camps, day camps, retreats, a wedding or our Halloween Happening, DCC provides you with an unforgettable experience. From the moment you drive through the pillars, you can feel the Dunkirk Spirit and the Spirit stays with you long after your visit. We are associated with the United Church of Christ and welcome everyone, as we encourage diversity among our campers.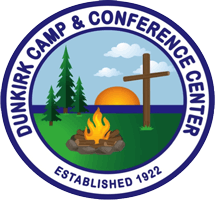 Youth Summer Camps are very interesting, and they are the most awaited summer events with a lot of exciting activities. All you have to do is book your slots with us
Read More
Our camps are not just for the youth but also for adults and families. You can visit us as a family and spend your time here in our weekend and summer camps.
Read More
Our Youth Weekend Camps are very interesting to attend and easy to enroll. Contact us to book your trip or sign up for an upcoming camp session.
Read More

DCC Annual Picnic - August 14th
You're invited to celebrate 100 years with us!
Everyone is welcome!
August 14th, 2022 12 - 6 pm
Food, Basket Raffle, Games for the kids, Time Capsule, Bingo, Bounce House, Swimming, Camp Store, Snack Bar, Anniversary Vesper Service.
Click the below link to see the complete schedule of events.

COVID Policies
The Health and Safety of our Campers and Staff is our highest priority as we prepare to open the 2022 camp season.
At this time COVID restrictions have been lifted. We will no longer be requiring masks and COVID testing to come to camp. We will continue to follow NYS and CDC guidelines if there are any changes and will update this information via our website.
3602 Lakeshore Dr. Dunkirk, NY 14048